Stock Market Returns at Christmas
Are you hoping for a Santa Rally in 2015? With Christmas just a week away we thought it would be interesting to see just how well the stock market has performed over the period leading up to 25th December – is the "Santa Rally" just a festive fable? Can we expect a Santa Rally in 2015?
Admittedly, many of us plan to start relaxing well before Christmas Day itself and may hold reduced or cash positions throughout the holidays, but here's what your returns would have looked like if you'd held a long position in the S&P for the final 5 trading days before Christmas: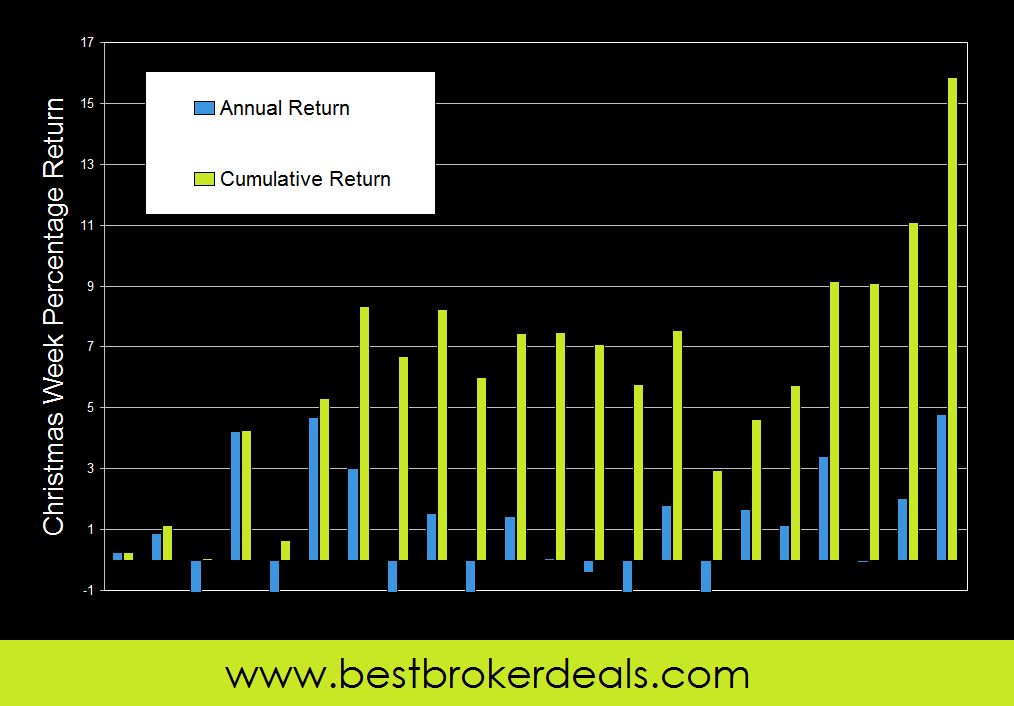 Over the past 21 years there seems to be some evidence that the market becomes bullish around this period, although the strategy didn't fare too well during the recent sub-prime bear market, losing more than 50% of the profits accumulated up until that time.
After we originally published this post before Christmas in 2014, the market produced its greatest festive returns for the entire period, despite losing more than half the returns that would have been achieved following the blowout highs of 18th December.
Here comes the Santa Rally at last! Looks like $SPY $VTI $QQQ are off to the moon! http://stks.co/s1AM2

— BestBrokerDeals (@bestbrokerdeals) Dec. 18 at 05:55 PM
Should You Trade the Santa Rally?
While you certainly wouldn't want to trade this as a system in its own right (all trades have been equally sized, but beyond this no method of risk control has been used), studies like this can provide useful background data to inform more serious strategy development – Jeff Swanson has covered the entertaining concept of the Christmas Trade in a little more detail along with lots of other more serious articles about system development over on his site System Trader Success.
Whether you're trading right into the holidays, or you've already broken off for Christmas, all of us at BestBrokerDeals.com wish you a relaxing and enjoyable break!