Futures Magazine Top 50 Brokers List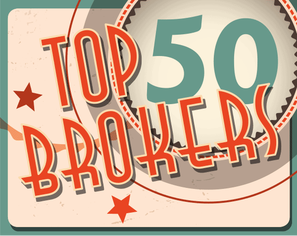 Are you trading with one of the world's best brokers? Click the image on the left to have a look at this fascinating breakdown of the most popular brokerages of 2013 from Futures Magazine.
The brokerage arms of major banks like Goldman Sachs and JP Morgan dominate the top spots, securities and futures brokers tend to rank highly, and there are lots of clearing firms whose names aren't well known but act on behalf of many of the introducing brokerages that retail traders will be familiar with. But there are a few surprises in there as well, such as Interactive Brokers who rank 14th by customer funds.
Top 50 Futures Brokers

Although Interactive Brokers are commonly regarded as catering to retail clients (I use them myself for ETFs), they also provide clearing for their own internal high frequency trading operation, Timber Hill, and this possibly accounts for a significant portion of the equity accredited to them by Futures Magazine.