Top 40 Brokers – End of the 'New Normal'?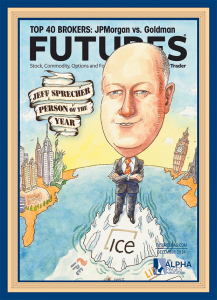 Futures Magazine are back with their annual cover feature providing in-depth rankings for the top brokers.
The 2014 league table includes both retail and institutional brokerage and features familiar names like TradeStation and Interactive Brokers, alongside the high volume broker-dealer arms of investment banks like Goldman Sacks and JP Morgan.
It's been a year in which many transformations in both the derivatives industry and fiscal policy have reached a conclusion, and we stand poised on the brink of 2015 with prospect of rising interest rates looming large.
So what were the main changes this year? And is the 'new normal' that we've come to accept since 2008 about to be turned on its head?
A Quieter Playing Field . . .
The first difference you'll probably notice is that the Top 50 Brokers of 2013 league has been significantly reduced to include just 40 brokers, and that's not just because Futures Magazine ran out of digital ink! In the accompanying article writer Daniel Collins explores some of the paradigm shifts and challenges facing the FCM industry such as rising regulatory and compliance costs and the data fees introduced by the CME in March of this year, and asks 'Can the Small Guy Survive?'.
In fact the number of FCMs has fallen by more than 50% in the last decade, with more and more of the small clearing firms and introducing brokers falling by the wayside.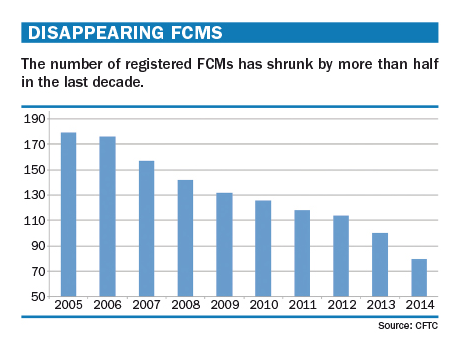 So it seems that there are simply fewer candidates left to compete for a place in the top brokerage top 40 this year.
That's a surprising trend in an industry that has seen considerable growth in volume accompanied by huge advances in technology that have made online discount brokerage the norm for many traders!
Reasons to be Cheerful!
Looking on the brighter side as we head into 2015, however, there are a number of changes currently afoot that give futures brokers cause for encouragement: the CFTC has issued favorable revisions to its rules, and there is an expectation that central banks will begin to move away from a zero-interest-rate policy (ZIRP), potentially injecting a fresh lease of life (and volatility!) into the fixed income markets.
Interest rates affect FCMs in two important ways: One is obviously volatility in the market and two is that interest earned on customer deposits—the float—had been a major driver of revenue pre-ZIRP.
With most brokers now fully compliant with new regulatory requirements, there appears to be a growing sense of hope that FCMs can turn their attention once more to developing and enhancing their product offering, competing for market share rather than with swathes of red tape.
The 2014 Top Broker League Table
Here's the full list for 2014, and with one final surprise: JP Morgan have beaten Goldman Sachs to the top spot that the latter has occupied for the last three years!