MetaQuotes Software Corporation, the developers behind MetaTrader – the most popular charting and execution platform among forex traders, has today announced the planned addition of further MetaTrader indicators to its MetaTrader 4 product. This follows the successful inclusion of a beta version of the Moving Average indicator in previous version.
The New MetaTrader Indicators
According to the news pages on the software company's website, the addition of further indicators has been expedited to include more than the MACD alone:
The latest version of the MetaTrader 4 Web platform features new tools for technical analysis. Recently, we announced the upcoming implementation of the MACD oscillator in order to demonstrate the indicator operation on a separate window. Eventually, we have decided to speed up and add a few different indicators in test mode.
The additional technical analysis tools will include Bollinger Bands, which plot standard deviations around an average and are usually interpreted as indicating the the expected scope of price change in an instrument, the MACD, which provides a visual representation of the convergence or divergence of averages of different lengths, and the Momentum indicator, a popular method for analyzing the rate of change in price.
Users of MetaTrader 4 will be able to adjust a variety of data and display parameters for the new analysis within their charts, including look-back period and plot type, to aid their analysis of the forex markets. It will also be possible to apply the MetaTrader indicators to one another so that, for example, a moving average of the momentum can be plotted. The company, which recently celebrated fifteen years of trading, also confirmed that they intend to proceed with the inclusion of further new MetaTrader indicators after thorough testing.
To find a broker offering trading via the MetaTrader platforms, check our forex broker comparison page to view platform specifications and open an account.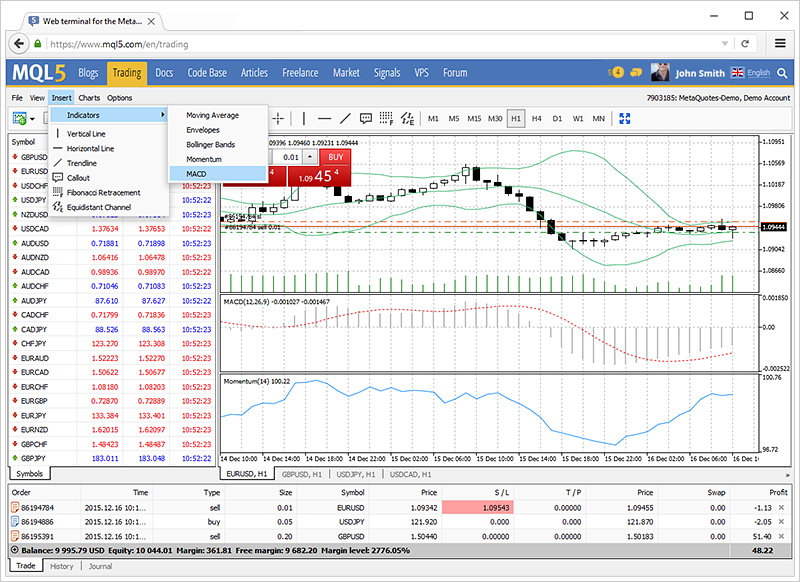 View the full news release on the MetaQuotes Software website.