With the latest TD Ameritrade promotion you can trade commission free for a full 60 and also take advantage of a deposit bonus. All new accounts are eligible for the free trading period once approved, and depending on how much you deposit you may be able to claim up to $600 in cashback, credited to your trading account.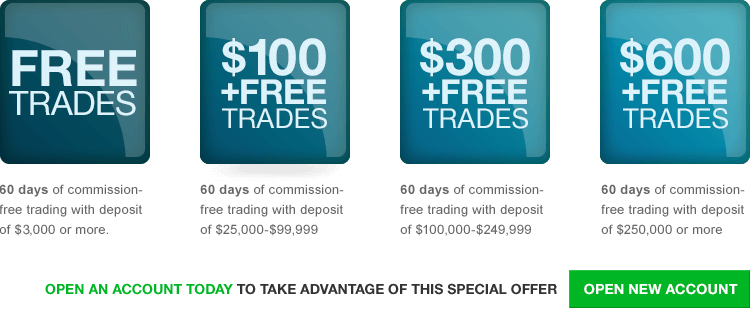 TD Ameritrade Promotion – 60 Days Free Trading plus Up to $600 Bonus
TD Ameritrade frequently rates highly in Barrons assessments, coming first place in the categories for 'Best for Long-Term Investing', 'Best for Usability', 'Best for Portfolio Analysis and Reports', 'Best for Novices' and 'Best for Research Amenities' in 2016. The broker charges no platform, maintenance, or inactivity fees, and provides access to a wide range of trading and investment products including Stocks, Options, ETFs, Futures and Forex.
The broker provides a number of platforms to suit traders of all types. A professional-level trading platform for frequent traders is offered in the ThinkorSwim software, which encompasses backtesting and strategy generation tools, as well as market scanning and tools to assess potential risk and reward. In the case of all platforms, no data fees or platform charges are made by TD Ameritrade.
All you need to do to access this promotion is to open an account with TD Ameritrade before 30th September 2016, and fund it with a minimum of $3,000 within 60 days of opening.