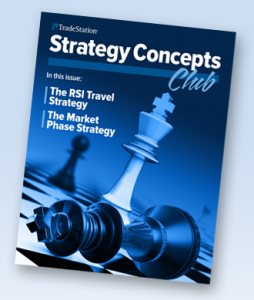 The TradeStation Strategy Concepts Club is a premium product designed exclusively for TradeStation brokerage clients.
Each month, subscribers will receive an online magazine featuring two articles that examine strategy concepts in depth. Each article contains original research, testing and analysis of strategies drawn from a wide range of styles and time frames, all of which can be put to immediate use in the TradeStation platform.
No EasyLanguage knowledge is necessary, and downloadable indicators and workspaces will be included with each issue.
What to Expect from a Subscription
Two monthly papers that examine real-world trading ideas and strategies
Explanation of the strategies' core logic, calculations, back-testing results, strengths and weaknesses
Valuable insights into developing a more disciplined approach to your trading
Exploration of advanced strategy concepts, including optimization and money management
Downloadable indicators and workspaces that plug right into the platform
Learn more about the TradeStation Strategy Concepts Club.

Sample Issue of the TradeStation Strategy Concepts Club magazine
Message from the editor