EasyMarkets Review
Commissions & Fees

Customer Service

Tools & Resources

Platforms & Execution


Though easyMarkets may fall short of the requirements of more experienced traders, the broker does an excellent job of catering to its core market of forex beginners, providing a relaxed and supportive trading environment and some excellent tools.
Special Offer: Get a 50% Bonus on Your Initial Deposit – Learn More
EasyMarkets is a broker with a clear principle underlying its mission statement: forex should be easy.
EasyMarkets's streamlined trading environment is configured towards serving those who are new to the currency markets, and strives to simplify forex by providing the tools and support that new traders need to learn and develop.
In over a decade of operation with clients in 160 countries worldwide, the company has distinguished itself from others with a unique offering, establishing its identity as a firm that is casual and approachable, yet reputable and professional.
Balancing this relaxed and accessible brokerage model with quality execution, good customer support, and a flawless track record for regulatory compliance is no small feat, and our EasyMarkets review recognizes the firm's success in this respect.
Commissions & Fees
While it may not be the most competitive in terms of execution costs, EasyMarkets sticks with its core principles of transparency and simplicity by offering fixed spreads. For new traders, fixed spreads are almost certainly the best model, providing certainty about your trading costs even when markets become volatile.
Of course, if low spreads are your main priority, then EasyMarkets may not be an ideal choice for you.
EasyMarkets does provide a degree of flexibility within the fixed-spread model. The broker offers three different account types with different spreads depending on the amount you choose to deposit (Standard – from 3 pips, Premium – from 2.5 pips, and VIP – from 1.8 pips).
| | | | |
| --- | --- | --- | --- |
| Account Feature | Standard | Premium | VIP |
| Minimum First Deposit | No minimum | $2000 | $20,000 |
| Minimum Deal Size | from 5k | from 50k | from 100k |
| Minimum Margin-to-Risk | $25 | $250 | $500 |
| Fixed Spreads | from 3 pips | from 2.5 pips | from 1.8 pips |
Another pricing feature available is fractional pip sizes. A fractional pip is one tenth of a pip, and the availability of this pricing structure allows you to take advantage of smaller price increments and market movements. This feature should also offer some additional data in terms of supply/demand balance for shorter term price-action traders.
One thing we particularly liked was the option to turn this feature on and off (via your broker representative). If you're an experienced trader and are accustomed to conventional pip sizes then you can continue to execute with them.
Fixed-spreads rely on a dealing-desk model, which means that the spread is your only execution expense and no commission is charged by the broker. You'll also be subject to rollover charges (which the broker terms a 'renewal fee' on their website) if you carry your positions overnight. Traders should be aware that this is subject to a minimum $3.00 charge. This may mean that EasyMarkets is not the most suitable choice for longer term traders with small account balances (renewal fee attrition may negate profits on small open positions maintained for long periods).
Customer Service
EasyMarkets has a strong reputation for customer service. All new accounts are appointed a Personal Account Manager who will be available to answer any questions you may have, guide you through the setup of your charting software, and if you're new to forex they'll provide one-to-one training.
Tools & Resources
EasyMarkets scores strongly in this section, offering well beyond what the average beginner might need to research and generate trading ideas. Furthermore, all the tools are simple and user-friendly, and can be accessed directly via the broker's website.
All the usual resources are available (news feed, financial calendar, price charts, world clocks, fundamental and technical reports). The news feed is provided by Reuters, which offers unusually good value at this level.
Two unique tools that we thought were particularly good were EasyMarkets's proprietary 'Trade Controller' and 'Inside Viewer' features.
At first glance the Trade Controller may look gimmicky, but on closer inspection it provides a powerful visual representation of an open trade's parameters, allowing you to adjust elements such as stop-losses and profit-targets to view alternative scenarios. This is great if you're new to trading, as it will encourage you to engage critically with your own trading decisions and think in terms of probabilities and scenarios, actively assessing reward and risk.
The Inside Viewer takes a feature we've already seen in some of the financial spread betting provider platforms, and helpfully expands upon it.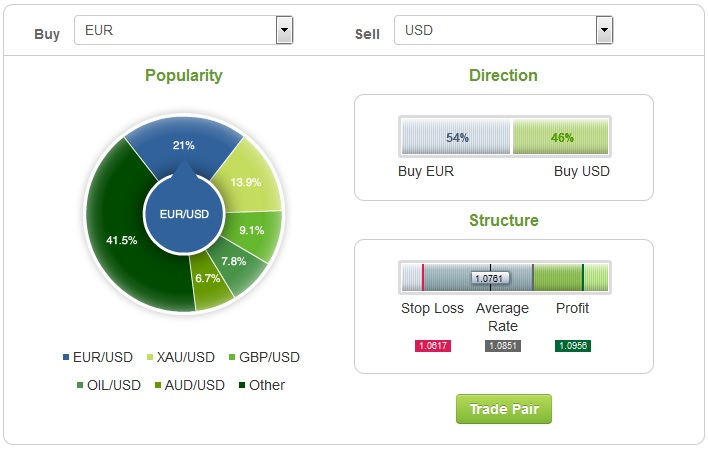 One of the common complaints from forex beginners is the lack of volume data available for the currency markets. Inside Viewer solves this problem, giving an insight into the positions of other traders. You can view the popularity of an instrument, the number of traders who are long and short, and also the 'structure' or parameters of their trades – average stop loss positions and profit expectations. Though limited to those accessing the markets through EasyMarkets and making day-trades, this is still a significant number of market participants.
The only way the Inside Viewer could perhaps be improved is if access to the historical database was provided for statistical analysis, rather just live positions. As beginners, however, the majority of EasyMarkets clients are unlikely to be immersing themselves in such complicated analysis.
One area we thought EasyMarkets might be able to improve is its daily market outlooks. These do not appear to have been updated on site throughout 2015. While we imagine that this is due to their lack of popularity, it would perhaps be good to see an outlook published with less frequency, such as a weekly report for all markets.
Trading Platforms
EasyMarkets offer both MetaTrader4 and their own web based, desktop and mobile platforms; we'll be focusing on the latter three products here (you can read a MetaTrader4 review here).
First up is the Visual Trade Machine web platform . . .
Though online streaming charts are available via the broker's website, you'll have to navigate to a separate page to view them (a link is provided in the order panel). The web platform is really just a dramatically stripped-down order execution platform that puts a premium on simplicity.
While there's little here to daunt new traders, tabs allow access to the Inside Viewer, and order entry parameters are neatly presented. Tabs allow you to move between order types, and instruments (grouped as currencies, indices, and commodities).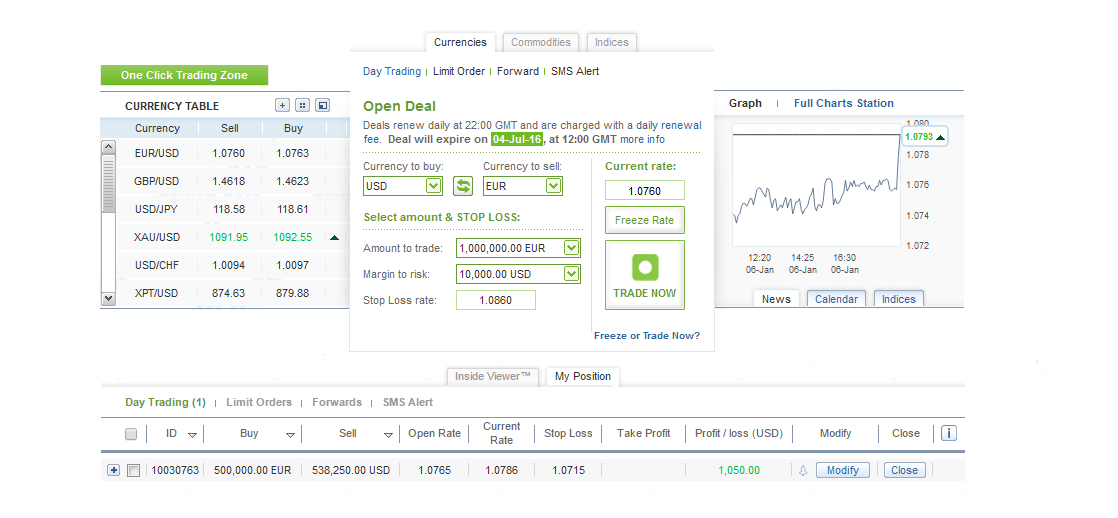 Worth noting is the ability to 'freeze' quotes, locking in the broker's quoted price for a few moments before you open your position. Re-quotes are another common gripe among new forex traders, and the 'freeze' function isn't one that is offered by most of EasyMarkets's competitors.
For more feature-hungry clients, there is the choice of the Trade Desk (which we didn't test) – a downloadable web platform, which interacts with Visual Trade Machine so that open orders can be controlled and modified from either application. Most will probably simply opt for MetaTrader4 though.
With an obvious knack for simple design, EasyMarkets' Mobile Trading solutions ought to be good, which they are: better, in fact, than the web trading platform!
You're presented with the choice of apps designed for Blackberries, iPhones, or a Mobile Site for smartphones with browser capabilities.
Conclusion
If you're completely new to forex trading or the financial markets, then EasyMarkets should certainly be on your list of brokers to consider. EasyMarkets scores about average in terms of costs and fees, and may be prohibitively expensive for position traders with small accounts. Through fixed spreads and quote freezing, the broker provides certainty and security over cost efficiency. Customer service is everything that you would expect from a broker that specializes in accessibility and education for new traders, and the range of tools and resources offered by EasyMarkets is excellent, and includes several well designed and unique solutions that provide a simple visual representation of information about the positions of other market participants.
If you fall into the group that EasyMarkets has configured its well-developed forex brokerage offering around – beginners in need of personalized guidance and a structured and supportive trading environment – then this choice of broker will be hard to surpass.
Location
Minimum
Lot Size
Minimum
Deposit
Maximum
Leverage
Funding
Methods
Monthly
Inactivity Fee
Cyprus
$5000
$25
200:1
Wire, Card, Skrill
$2
Platforms
Devices
Regulator
Chart Trading
EA/Algo Trading
Demo Available
Limited Offer: 50% Bonus on Initial Deposit
Learn More
MT4, iPhone, Web
Web, Desktop, Mobile
CySEC, ASIC
✗
✓
✓
Special Offer: Get a 50% Bonus on Your Initial Deposit – Learn More
---
EasyMarkets Review