If you're just starting out in the financial markets and you're looking for the best brokerage account for beginners, then this article is going to give you some really useful pointers to help you find the right broker for your needs.
After you've worked through the article and answered a few simple questions, we'll guide you to a series of broker recommendations that have been selected specifically for the benefits that they offer to beginners.
Getting Technical . . . Or Not!
The first question that you should probably ask yourself has nothing to do with your knowledge of the financial markets, but instead it's about how comfortable you are with technology.
A lot of trading is done with computers, and you'll almost certainly be using computerized charts in your analysis, but it's still perfectly possible to phone a broker and have someone enter and exit a position for you. This always costs more, so you will need to factor these increased costs into your trading plan.
At the end of this article you'll find some suggestions for the best brokerage accounts for broker-assisted trading. However, if the thought of an online brokerage account where you place all your own trades isn't intimidating, then read on . . .
Account Tools for Beginners
Generally speaking, good brokerage accounts for beginners will provide some basic functions such as charting, order execution, and market data feeds. These will all be automatically connected when you log in, ready for you to begin trading, so you won't need to install any software or get involved in any complicated process to get everything working.
More advanced setups allow for loads of complicated stuff – APIs, feeds from third party data vendors, programming interfaces for automated strategies . . . And these all cost money.* When you're just starting out and finding your feet then you're not going to need all these bells and whistles – you just want a solid, reliable setup.
Our recommendations at the end of this article are designed to save you additional unnecessary expenses by identifying brokers who offer a reliable basic package, and will avoid you paying for loads of extras that you don't really need as a beginner.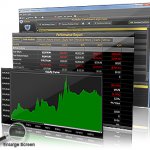 *Just for the record, if you're looking for an all-singing-all-dancing solution then our recommendation is TradeStation. It will set you back around $249.95 per month for the software only, unless you also use TradeStation's brokerage services and complete a minimum number of 10 transactions. You'll pay commissions, data and account fees on top of this, and addons such as Portfolio Maestro entail an additional fee.

Choice of Market
The next question you should ask when choosing a brokerage account for beginners is what market do you want to trade? There are many different markets such as foreign exchange (forex), commodities such as gold and oil, stock indices, and interest rate products like treasury bonds.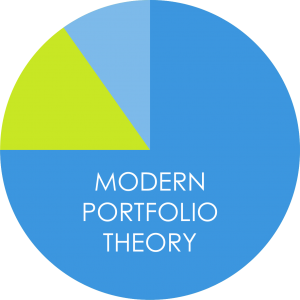 Many people begin trading because they have an idea about how to profit from a particular market, but if you're unsure which markets you would like to trade then that's no bad thing . . .
Trading lots of different markets simultaneously is known as diversification, and it's an excellent way to reduce your risk and smooth the growth of your account equity.
If you want to participate in a wide range of different markets (which is the right choice for the vast majority beginners) then there are ways to do this from one single brokerage account. A single type of derivative instrument can allow you to access many markets.
Derivative Instruments for Trading
There are a number of different instruments that you can use to trade each market. Think that oil is about to go up? Then you could go long an oil futures contract, buy an oil fund ETF, purchase a call option or a contract for difference (CFD), or you could make a spread bet or a binary bet on rising oil prices. Exactly the same would be true for Gold, a Stock Index, or a Treasury Bond.
These are all just different ways to participate in price movements in the same underlying market.
If all this is sounding a little confusing, then don't panic – that's why you're a beginner, right? Everyone has to start somewhere. But you might benefit at this stage from reading a book or two to familiarize yourself with the many types of products that are on offer.
You can find brokers for different types of instruments listed in the menu bar at the top of this page – just click on the links to view comparison tables for each.
Once you know what market or instrument you want to trade in, then this will instantly narrow down your choice of broker. At the bottom of the article you'll find our suggestions for the best brokerage account for beginners for each market.
Low Cost Brokerage Account for Beginners
As a beginner, you should invest just a small amount of risk capital in your new brokerage account, and use this to learn how to trade. Never fund your account with more than you can comfortably afford to lose. That being said, with just a small account balance keeping your costs and brokerage fees to a minimum will be absolutely essential.
While it's important to minimize your trading costs, it's also important that you don't cut corners in order to do so – don't end up trading with an unregulated and unreliable broker just because they're cheap! As a very general rule, the larger the firm the safer they are likely to be, but most brokers publish details of the regulatory agencies that they are registered with and overseen by.
New account promotions can be a good way to reduce your trading costs when you first begin, but don't be lured into opening an account with a broker just because of a promotional offer – when the promotion ends then you may be left in a far worse position for the long term.
Brokerage Account for Beginners
Having read this far, you've now hopefully narrowed down your field of search somewhat, which is great. You probably have in mind a description of the type of brokerage account you need, perhaps something like:
"I want to trade forex cfds using an online platform and I need a broker who lets me open an account with $500 and charges me less $1 per trade"
Or . . .
"I want to place orders over the phone once a month to trade a diverse range of stocks – I'll be depositing $15k and I want to pay no more than 1cent per share in commission"
Keeping this in mind, take a look at the recommendations below. We think that this represents the best brokerage account for beginners within each category, but don't just take our word for it – make sure you investigate the broker thoroughly before opening an account.
We hope that you've found this resource useful. If you have your own recommendations for brokerage accounts for beginners, then please feel free to share them using the comments box below!
---
BEST BROKER FOR BEGINNERS – Placing Orders by Phone

Charles Schwab have trademarked the term "Schwab by Phone" – that ought to tell you something!
Schwab are one of the largest brokers, but they're also committed to maintaining a network of local offices throughout the US, so getting to speak to someone in person is fairly easy. Their telephone order service uses voice recognition software to process your requests – rest assured that they've invested a lot of money in this technology and it works well.
Schwab lets you conveniently manage your investments via an automated phone service. Access your account through speech recognition (Schwab by Phone™) or touch-tone (TeleBroker®). Whichever method you choose, you can quickly get quotes, make trades, review account balances, and much more.
Once you have a Schwab account, dial 800-435-4000 to access automated phone services. The same password works for Schwab by Phone and TeleBroker. When you call Schwab by Phone™, speech recognition is a snap to use! Call 888-435-4000 and just say what you want to do. The system will respond to your spoken requests.
Visit the Charles Schwab Website
---
BEST BROKER FOR BEGINNERS – Stocks & ETFs

INTERACTIVE BROKERS
Unlike most firms who charge a fixed fee per trade (which can be economical for large volume traders), Interactive Brokers also offer a per-share price plan. While more expensive for large volume trades, if you're buying fewer than 100 shares Interactive are the cheapest commission you'll find. So, if you're starting trading with a small account and buying shares in blocks of 100 or less, then this broker is a great choice.
Interactive amongst the largest and most well established brokerage firms and also service institutional clients. Their charting platforms are not the best, so this broker mightn't be an ideal choice for day-traders, but if you're buying stocks and holding them for longer periods it will be more than adequate. The web based platform support numerous intelligent order-routing techniques such as 'market on close' which are particular great for execution.
Visit the Interactive Brokers Website
---
BEST BROKER FOR BEGINNERS – Forex

There are many good forex brokers out there, but we've chosen Markets.com for this category on the strength of the service and support that they offer to new traders.
Beginners opening accounts with this broker often comment on how much Markets.com does to support them in terms of online training and educational resources. For instance, when you open an new account you'll receive all of the following:
A twelve part video webinar series.
Range of exclusive eBooks and tutorials.
One-on-one training session with a market expert.
---
BEST BROKER FOR BEGINNERS – Futures

Infinity Futures are our recommendation for new commodity traders. Although they're neither the largest or most well established firm (in actual fact they introduce orders to major primary broker Transact Futures), there are three clear reasons why we think they're an excellent choice for beginners:
Trading is through the Transact Platform, which is by far the most user friendly and intuitive order entry DOM that we've come across. Somehow, it also manages to be the most functional! Though simple to use, this is certainly not lightweight, and allows complex order bracketing techniques to be implemented in seconds. The drag and drop functionality is also really good for quick order manipulation. We'd recommend the 'Ladder' over the order entry matrix of much more established broker TradeStation any day of the week.
The order entry platform, Sierra Charts, and all your exchange data is completely free providing you meet the surprisingly minimal monthly volume requirements. Although the charting may not be quite as good as that of TradeStation or NinjaTrader, it is way more than adequate for starting out.
Commissions are seriously low – this is pretty much as good as you're going to get without entering the institutional trading arena.
Visit the Infinity Futures Website
---
BEST BROKER FOR BEGINNERS – Contracts for Difference (CFDs)

AvaTrade have been a favorite of ours here on BestBrokerDeals.com for a long while – we've only ever heard good things about them. The reasons why we're recommending them for new accounts for beginners are:
AvaTrade was one of the first online brokers to offer CFD trading, giving ordinary individuals easy access to a wide variety of markets, including indices, stocks and commodities. They've now racked up nearly a decade of brokerage experience and have a reputation for really solid customer service and support.
You'll get the choice of access to a wide range of execution platforms with this broker, including the full featured MetaTrader4, a firm favorite with more experienced traders. AvaTrade are a broker that you can grow with – start out with a basic account and a the simple web-based platform, and then graduate to more advanced desktop software when you're ready. You can do this all from one account with absolutely no fuss involved.
The broker is registered in Dublin, Ireland, where it is overseen and regulated by the Central Bank of Ireland. Additionally, it is registered with regulatory bodies in Japan and Australia.
---
BEST BROKER FOR BEGINNERS – Financial Spread Betting

With 40 years' experience and over 125,000 clients around the world, IG Index are a trusted, global provider of financial spread bets.
The vast majority of IG Index customers are professionals who are interested in the financial markets, so the broker's customer service is geared towards providing support and advice to new traders, offering 24-hour telephone support (speak to real people), as well as a comprehensive range of education, training tools, trading tips and market commentaries online.
The trading platform combines simple but robust features with high-speed execution, designed to meet the needs of the most demanding trader and provide an outstanding experience on all devices.
The UK-based London Stock Exchange broker is fully regulated by the FCA and holds individual client funds in segregated accounts.
---